Easy to Deploy: Under 10,000 lbs. they are easy to move with pickup truck
Generate Power: Redundant power removes the need to grid connection
Manufacture Water: Storage, filtration and water from air technologies available
Connected: Cellular and Satellite connectivity options ensure communications
A TRULY MOBILE PLATFORM WITH A MULTITUDE OF MEDICAL APPLICATIONS
Fully compliant clinical examination and treatment rooms including general, OB-Gyn, X-ray, pediatric, ear nose and throat, ophthalmic, dental and dialysis, as well as designs for mass casualty, central sterile processing, administration and a fully functioning operating suit with positive air and sterile corridor. Clinics on Wheels™ delivers "Continuity of Care".
Click on the button below to download an informational PDF.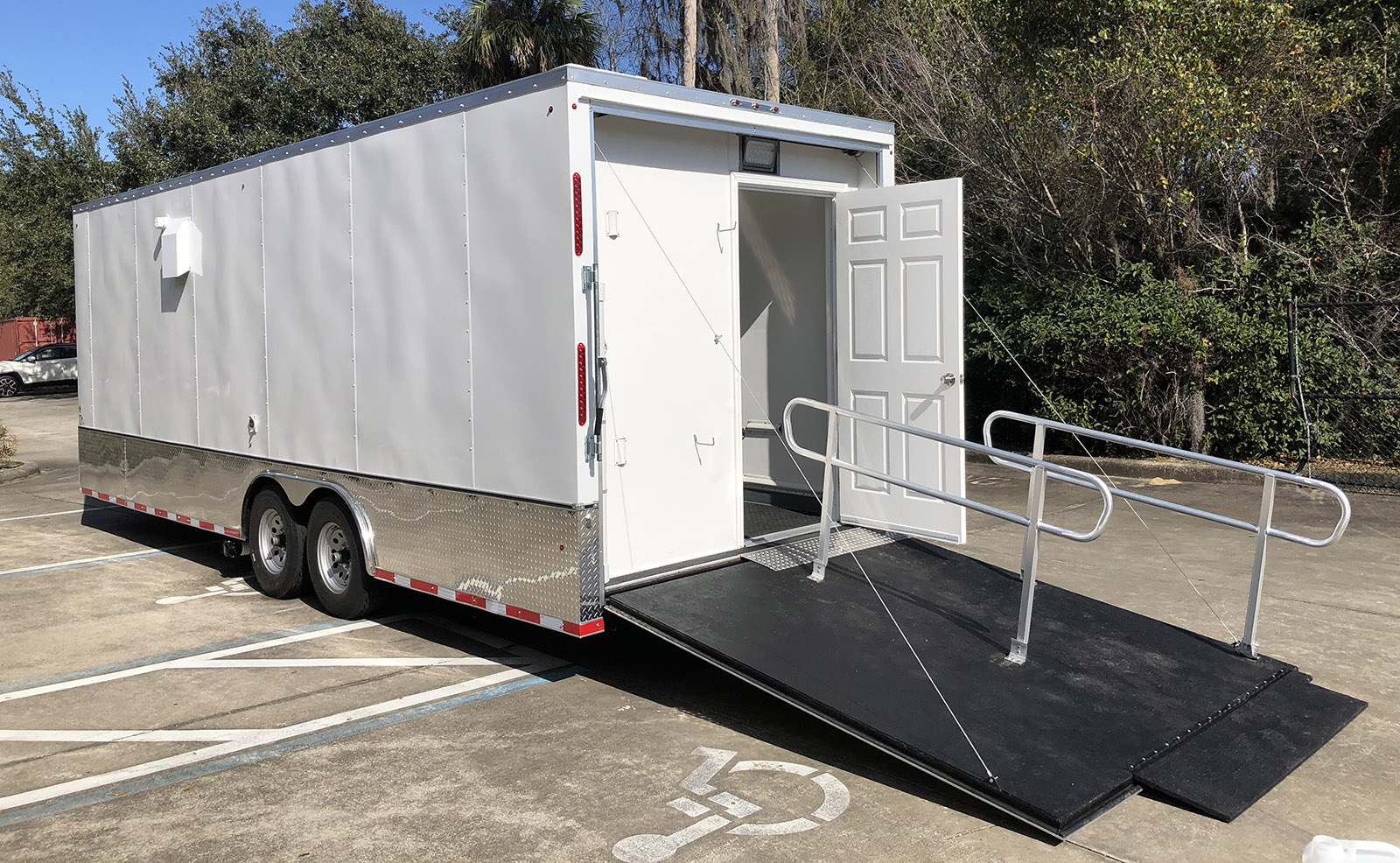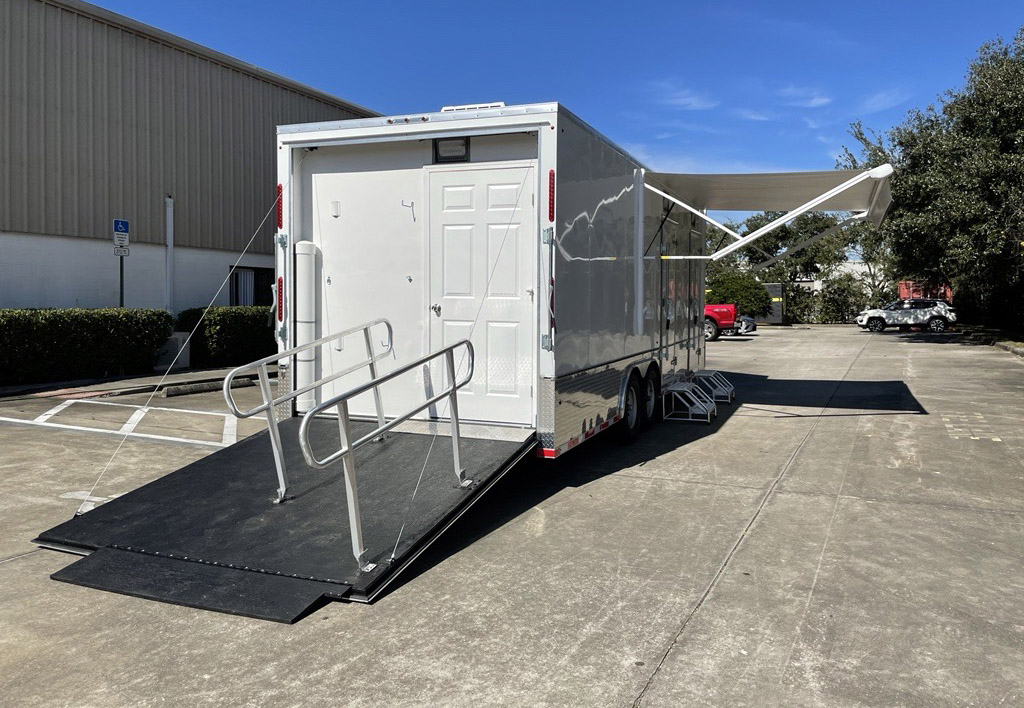 VACCINE DISTRIBUTION
Has a wheelchair ramp with handrails to an ADA compliant door ensuring equitable vaccine distribution to all types of differently abled people in the most austere locations.
VACCINE DISTRIBUTION
This is an office compliant mobile facility with up to three exam/vaccination rooms and an optional intake room with bathroom.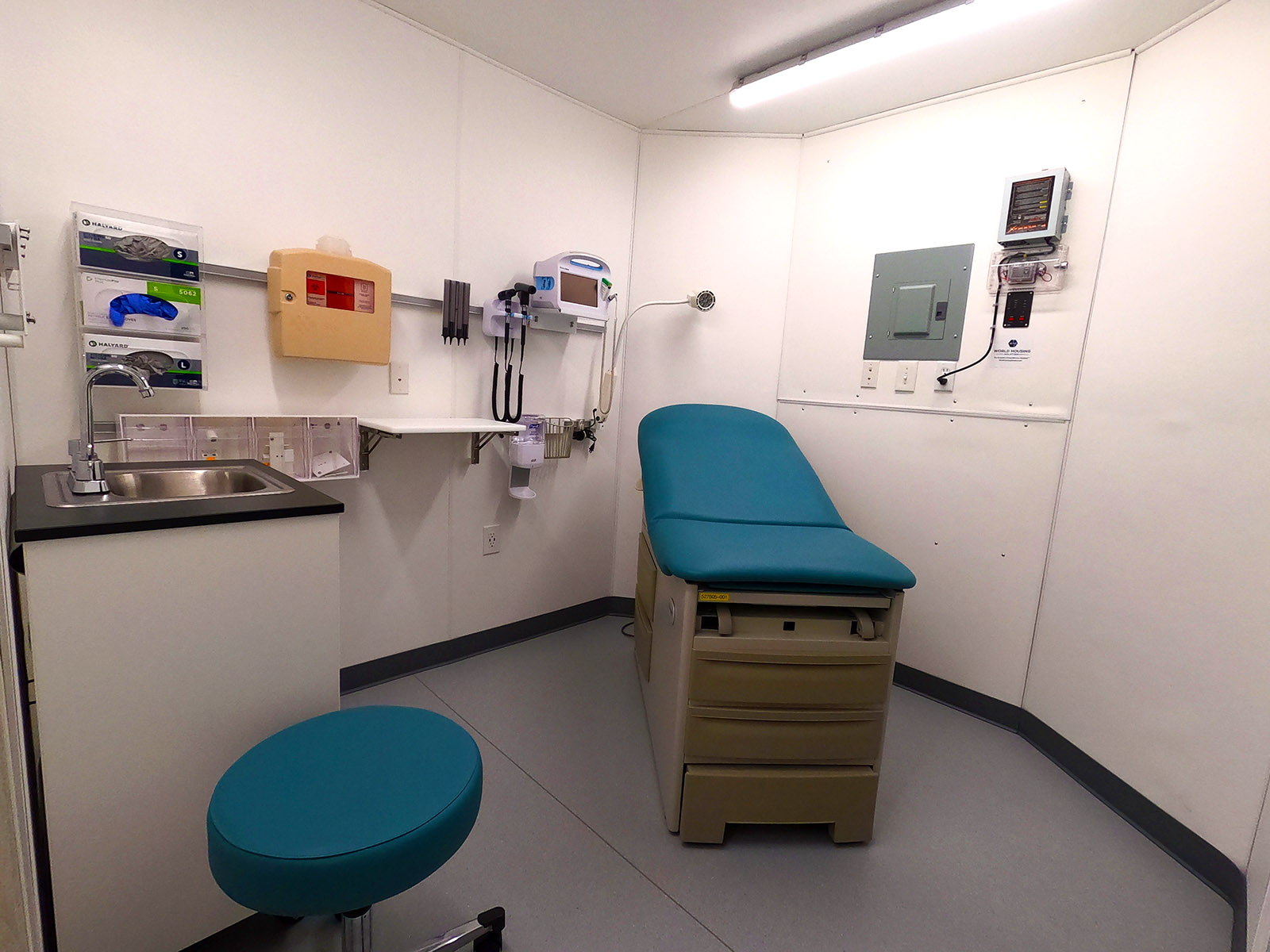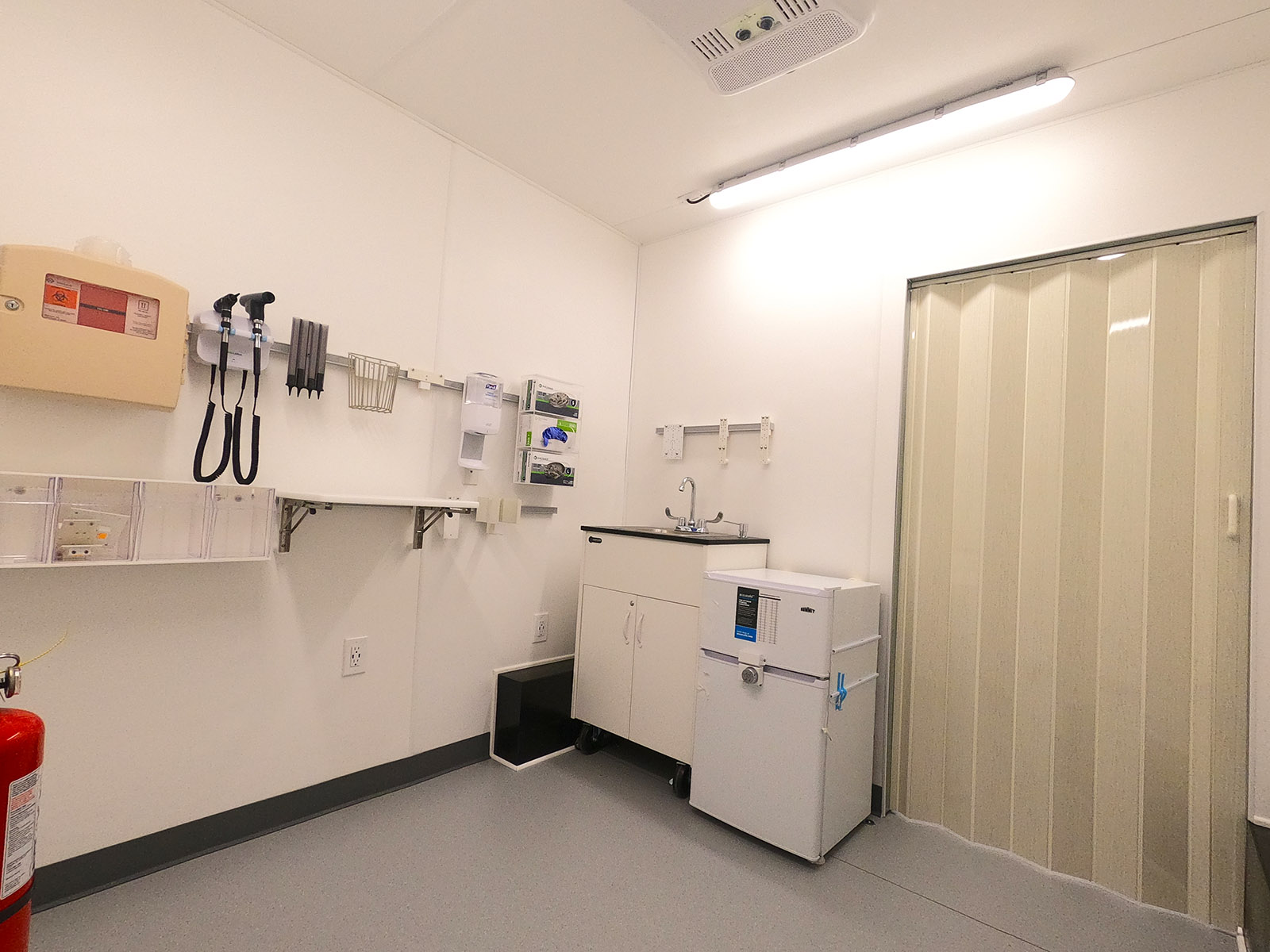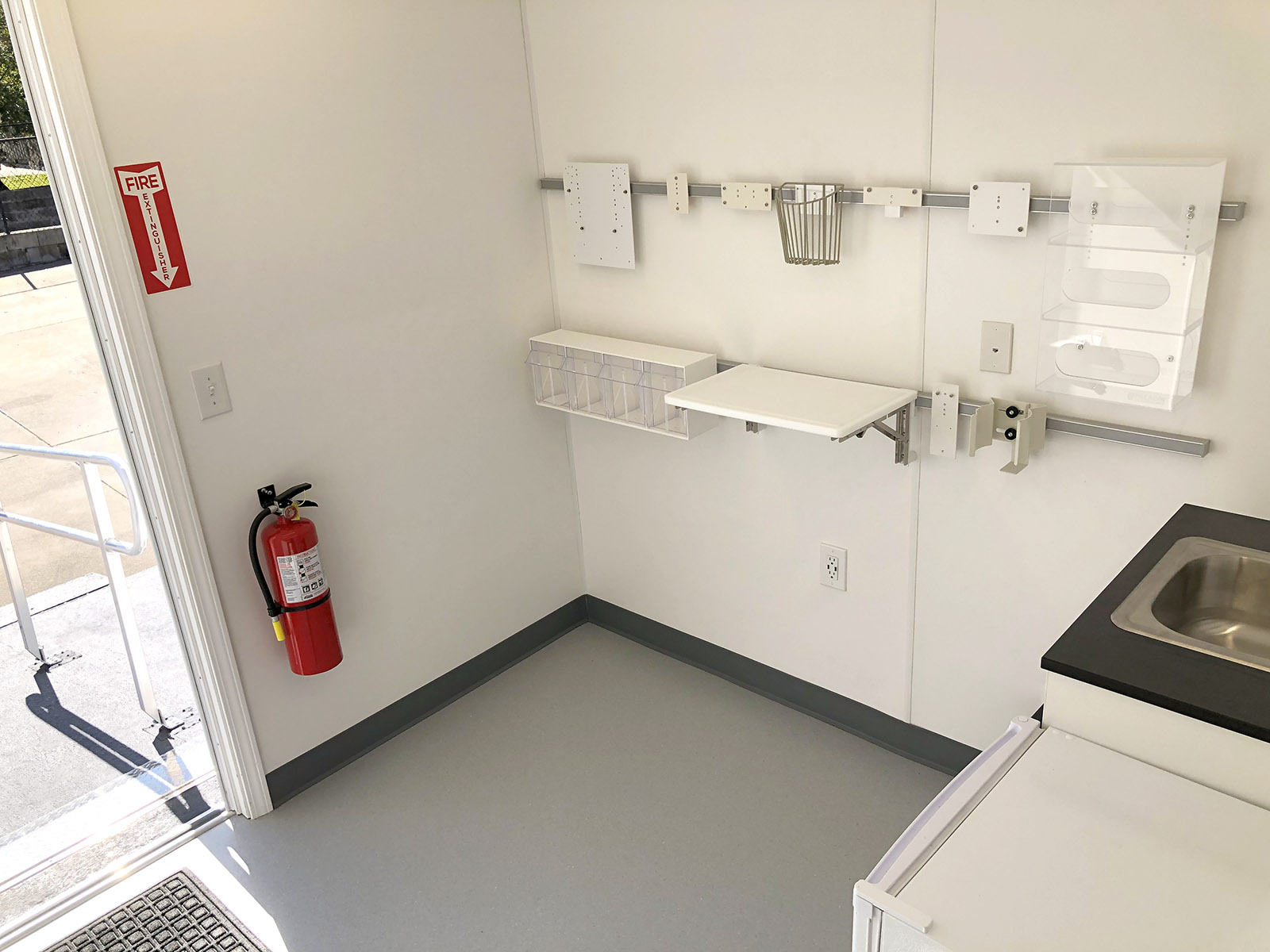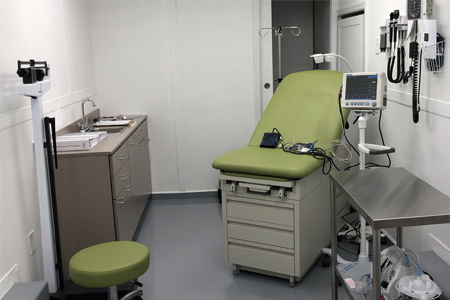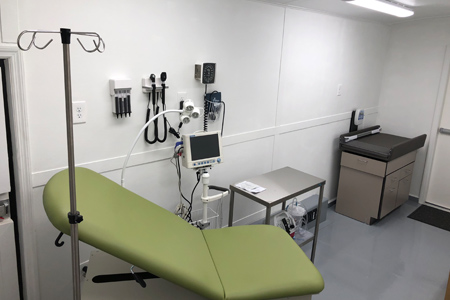 OB-GYN WITH PEDIATRIC EXAM
This clinic has the instruments, sterilizers and imaging to support most OB-Gyn and pediatric care visits. Everything from well visits for pregnancy to pediatric visits with vaccinations, even emergency C-sections are supported.
GENERAL EXAM WITH X-RAY & TELEMEDICINE
The telemedical capabilities in our general exam unit are reimbursed by Medicare. This creates a perfect revenue generator for the widest array of CODE 16 exams and treatments that are fully reimbursable.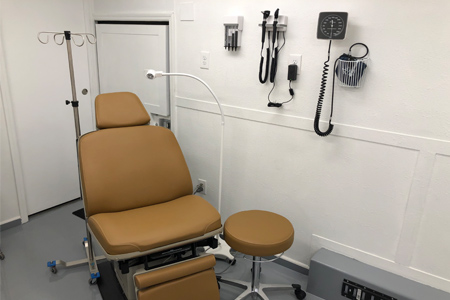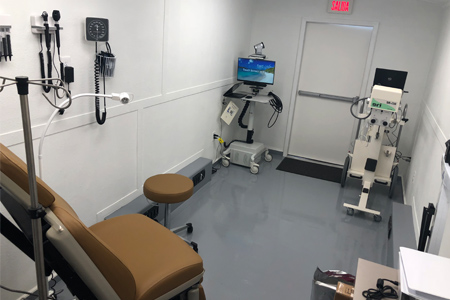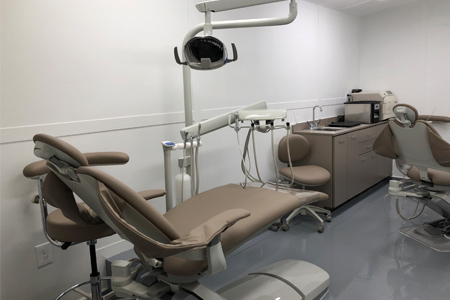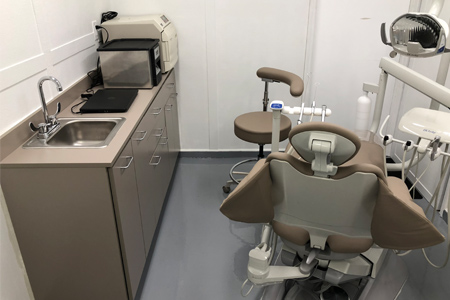 DENTAL OFFICE WITH 2 DENTAL SURGERY CHAIRS
Dental services in a medically compliant mobile platform with sterile cleaning equipment make four handed dental surgery easy. Options include our solid base dental chairs or our more mobile deployable dental units in a pelican case.

WHEN

DISASTER

STRIKES
WE HAVE THE SOLUTIONS FOR IMMEDIATE DISASTER RECOVERY
FIRST CARES ACT MOBILE SOLUTION FOR THE MODERNA & PFIZER COVID-19 VACCINE
World Housing Solution has just built and shipped what is thought to be the first ever Cares Act Eligible mobile COVID-19 Vaccination Distribution Clinic on Wheels. With the track record of converting into an accredited medical office use after. Fitted with state of the art of equipment this clinic can be moved ANYWHERE with a pickup truck and run off the grid.
RAPIDLY-DEPLOYABLE BUILDINGS & CLINICAL FACILITY INTEGRATION
When you dock our Clinics on Wheels™ to one of our rapidly deployable buildings you can deliver unprecedented capability in a time frame never thought possible. Imagine a 70 bed Level III Trauma Hospital deployed and ready to see high volumes of patients in less then 72 hours. Click on the video above to learn more.
ELASTIC GRID™
CLINICS ANYWHERE, ANYTIME
Easily scale your autonomous energy grid by adding or removing daisy chained Clinics. This grid automatically detects and compensates for additions or subtraction of units, reducing the overhead associated with self-managed traditional infrastructure. With elasticity we refer to the ability for the grid to always provide the precise amount of resources that the water, power or communications asset actually requires, thereby avoiding over- or under-provisioning at all times. This keeps the grid stable, reliable and highly cost-effective. Click on the button below to download a PDF describing more about Elastigrid™.

ECOSYSTEM PARTNERS
Through our ecosystem partners Clinics on Wheels is able to bring best in breed technology and enable our customers to offer hospital quality care and service to it's patients. With the help of The ADA Group, Future Health Concepts Inc., iCoreConnect, Hodei Technology, we perform supply the world with the most up-to-date, off-the-grid, technology for the real heroes to perform at a premium and successful level.
It is always incredible to see different agencies come together to help meet the need in a community. With partners like World Housing Solutions, we were able to be remote, be effective and more importantly bring hope to families effected by Hurricane Michael.
Jerry Stickney
State Logistician
Emergency Disaster Services
The Salvation Army of Florida